One thing I love about summer is that the opportunity for rest and travel widens my perspective, and helps me think about where we stand compared to other unions. Across the country there's a wild debate about teaching Critical Race Theory in K-12 public schools. Seeing school boards all across the country debate this issue makes me glad that Baltimore City Public Schools is a district where there's a shared understanding of the value of talking about race and it's impact on our history and present. We may not always agree on what equity means, but we tend to agree that it's important.
Another way that we're different from large parts of the country has to do with re-entry. In a lot of places, five-days a week, in-person schooling didn't stop. Our district's plans for this fall's re-entry into in-person schooling have started to be released, and I'd like to share with you a few of the recommendations and key takeaways from the R3 workgroups.
I'd also like to make clear that while the union can negotiate working conditions, most of the decisions made in the R3 workgroups falls outside of that category, according to City Schools. I disagree, and I have let them know how I disagree and why, but while that disagreement exists, we don't have the legal power to force them to bargain with us over many matters.
As we begin to look at the district's plans for the fall, I'd like to begin with highlighting some of the input the district has received to inform the Reconnect, Restore, Reimagine workgroups that are preparing reports for the fall. Teachers and school based staff made up over 2/3 of the respondents that the district received input from in May.
Teachers and school based staff had a number of important messages for the district, among them:
Identification of personalized learning as the most important instructional priority as we return to school, with 40.3% of school based staff choosing this as a top priority
Improvements in climate and culture as an important focus area in the fall, with 49.1% of school based staff listing it as a wholeness priority
As we move towards the fall, each action members take, including providing feedback and input into district planning, makes us stronger. Thank you for lifting your voices, and I promise that we can build on these strengths next year to secure even more wins.
In solidarity,
President Brown
___________________________________________________________________
---

THE BALTIMORE ALLIANCE TO RECLAIM OUR SCHOOLS (AROS) IS HIRING A FULL-TIME PARENT ORGANIZER!
Please share the job posting with involved and active parents of Baltimore City Public Schools. Learn more and apply here.
__________________________________________________________________________
REGISTER FOR THE PARAPRO TEST
Seats are limited due to social distancing.
Please visit bit.ly/btuparapro to register.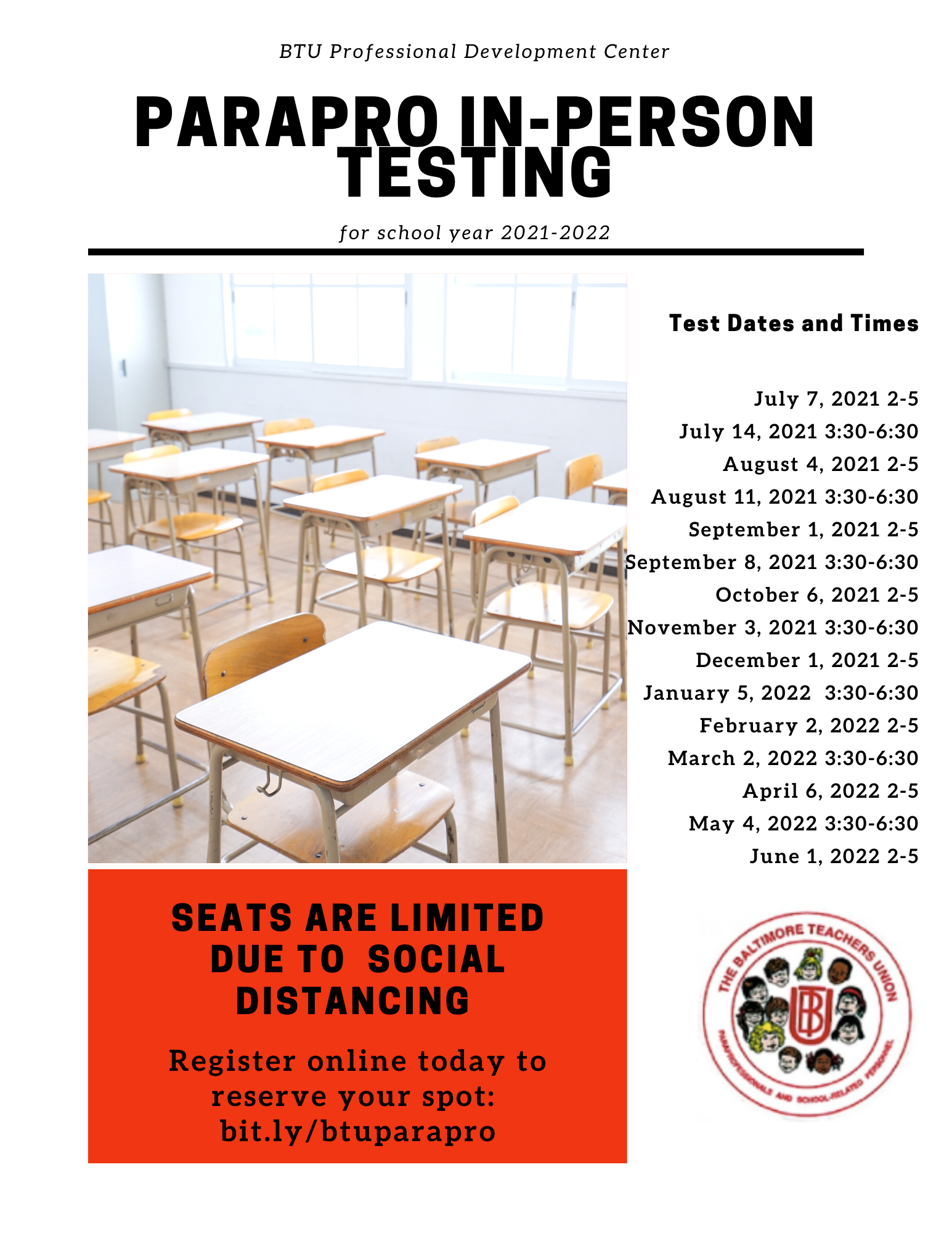 ---
COVID-19 LINE-OF-DUTY DEATH BENEFIT NOW
AVAILABLE TO MEMBERS OF THE
MARYLAND STATE RETIREMENT AND PENSION SYSTEM!

Special Benefit Covers Period Between March 5, 2020 and July 1, 2022


Effective immediately, a special line-of-duty death benefit is available to certain families of deceased active members of the Maryland State Retirement and Pension

System if COVID-19 was the cause of death or a contributing cause of death of the member. The benefit

is now available due to legislation the General Assembly enacted during the 2021 Legislative Session in response to the COVID-19 pandemic.


The following conditions must be met to qualify for this special death benefit:
1. The deceased member must have been actively employed with a participating employer in the
Maryland State Retirement and Pension System at the time of death;
2. The deceased member must have died between March 5, 2020 and July 1, 2022; and
3. COVID-19 must have been the cause of death or a contributing cause of death.

A member's death presumptively was in the course of duty if the member contracted COVID-19 within

14 days after reporting to a work location provided by the member's employer. The member's cause of

death and date of contracting COVID-19 are subject to proof by documentation as stated in the new law.

If all requirements are met, this special line-of-duty death benefit is available if the deceased member has

a surviving:
non-disabled child under 26 years old;
disabled child of any age; or
Anyone who believes that a deceased member may qualify for this special COVID-19 death benefit is encouraged to contact Carla Foster at 410-625-5637 or cfoster@sra.state.md.us.
---
Brothers and Sisters,
Mark your calendars for the 36th Annual "Ernie Grecco" Golf Tournament! The event will be held Thursday, September 23rd at Rocky Point Golf Course and proceeds will benefit AFL-CIO Community Services of Central Maryland.

We will send out additional information about registration in the next few weeks, but in the meantime we encourage you to distribute the card below within your local or organization.

I look forward to seeing you in September!





Tommy McLaughlin, Director
---

President Biden's American Jobs Plan includes expanding a tax credit for manufacturers of electric vehicles, so long as they are made in America by workers in jobs with good wages and labor standards.
This tax credit fulfills two key goals at the same time: It provides support for the transition to electric vehicles, which are critical for fighting the climate crisis, and supporting the growth of union jobs helps to rebuild the middle class after decades of stagnation.
Here's the problem: The biggest name in electric vehicles doesn't just use non-union labor, but he has been fined by the National Labor Relations Board for violating labor laws to prevent union organizing.
That's right: Elon Musk is a union buster.
Right now, President Biden is negotiating with Congress to shape the American Jobs Plan into legislation―and he's getting a lot of pressure to lower the overall price tag. You can bet that America's second-richest man is applying pressure to stop a provision that would either give a leg up to his competitors, or force him to cede power to workers at his Tesla factories.
We know that union workforces mean better wages and safer working conditions. It would give workers a voice when, for example, a Tesla factory is forced to re-open during a pandemic without proper safety precautions. That's why billionaires like Elon Musk and Jeff Bezos work so hard to stop unions from forming.
We need thousands of voices to ensure that President Biden and Congress stand by unions and include strong union protections in the American Jobs Plan!
SIGN NOW: Stop Elon Musk's union busting with the American Jobs Plan!
---
THE VIRTUAL STUDENT MATINEE LIBRARY, PRESENTED BY CENTERSTAGE
The virtual student matinee library is an online repository of filmed versions of some of Baltimore Center Stage's programs and plays with corresponding program material, such as curricula and program guides, to prompt questioning and classroom discussion available to K-12 teachers. BCS has had the pleasure of welcoming thousands of students to its in-person matinees. The Student Matinee program has helped to deepen the theater's relationship with Maryland schools, youth, and educators. However, due to the Covid-19 pandemic, the season's cancellation presented an immediate access barrier. It was at this moment that BCS recognized an opportunity to continue to provide engagement to students with the performing arts at a time when connection was seemingly non-existent.
Please follow the prompts to register for your membership and gain access to videos, curriculum and program material for our Mainstage Series plays and community programming. Your membership will be good for one year, at which time, you'll receive an expiration notification along with the option for renewal.
---
USE

THIS

BTU FORM TO REPORT HEALTH AND SAFETY VIOLATIONS
As members volunteer and are mandated to work in person at school sites, the BTU has created an online reporting form in order to document positive and suspected COVID cases. This online reporting form can also be used to report:
This form is NOT meant to replace reported violations sent to supervisors, it is a supplement that will allow union membership a single, consistent, and safe place to report to BTU so that we are able to most efficiently and effectively support staff.
We will continue fighting for your safety whether you are working at home, or in a building whether voluntary or mandated. Please email info@baltu.org or your field rep if you have questions about how to fill out this form.